Participating Institutions
The member institutions in the Pennsylvania Alliance for Design of Open Textbooks (PA-ADOPT) are Cheyney University (CU), Kutztown University (KU), Millersville University (MU), and West Chester University (WCU). Members of the Pennsylvania State System of Higher Education (PASSHE), the PA-ADOPT universities are all regional, primarily undergraduate institutions, situated in Southeastern Pennsylvania. Among our alliance, approximately 70% of our undergraduates are from counties in this region (Berks, Bucks Chester, Delaware, Lancaster, Lehigh, Montgomery, Schuylkill, and Philadelphia). This is a diverse constituency that includes rural, suburban, and urban landscapes in close proximity to Philadelphia, the poorest of the 10 largest cities in the US.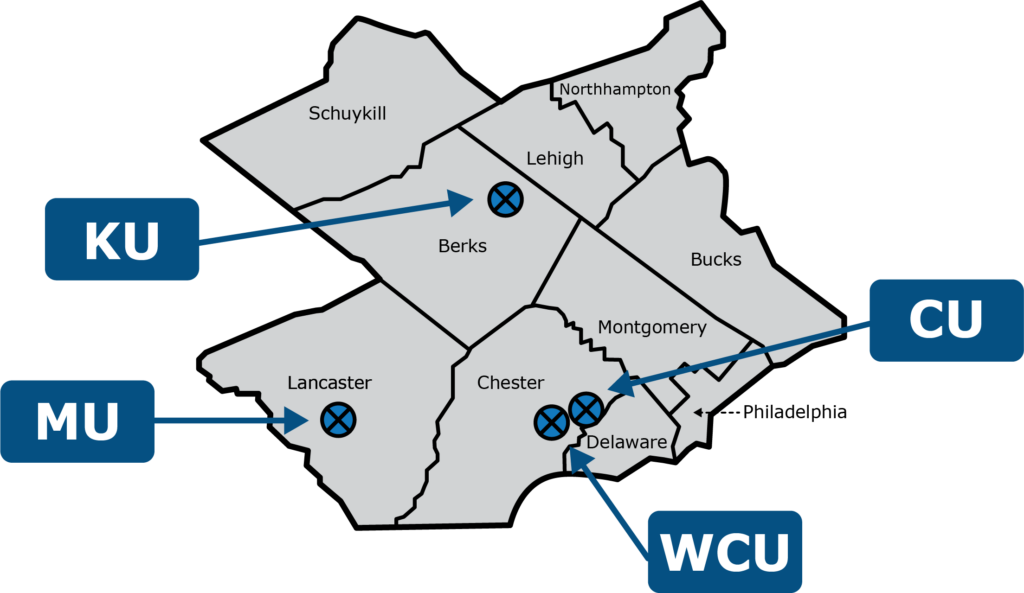 Each participating faculty author wrote and developed their own eTextbook in order to replace a course textbook of their choice. Each book went through a copy editing process, was peer reviewed, and then built in Apple Pages. Once constructed in Pages the eTextbooks were reviewed for technical errors and meeting accessibility standards.
The authors began book development by going through an eTextbook training which included but is not limited to an OER workshop, inclusive design training, technical Pages training, and accessibility best practices.
Project Management
The Office of Digital Learning and Innovation at West Chester University (Principal Investigator: Marc Drumm) manages the PA-ADOPT project and associated responsibilities. Each other participating institution provides guidance and communication through program coordinators.
PA-ADOPT additionally works with an external evaluator for quality assurance and constant feedback. The Office of Digital Learning and Innovation at West Chester University is responsible for the faculty author training, the copyediting process through WCU's WordWorks Program, and eTextbook publishing and distribution in collaboration with Information Services and Technology.